gewog img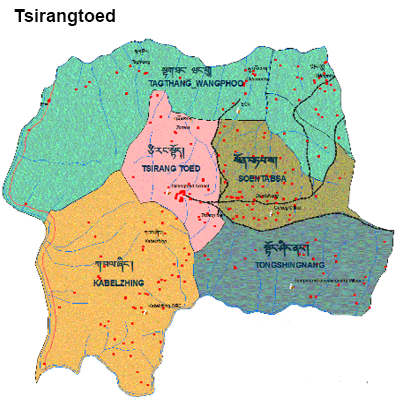 Tsirangtoed Gewog consists of five chiwogs namely Tsirangtoed,Soentabsa,Kabelshing, Wongphu and Tongshina. The Gewog has an area of 30.3 sq m with the elevation raing from 800 to 1300 meters above sea level.

Agricultural land use in the Gewog is dominated by wet land followed by dry land cultivation. Paddy and maize is grown as the summer crop while mustard and potatoes are the main winter crops. Oranges and cardamom constitute the main source of cash income for the farmers. The Gewog has a total of 292.93 acres of dry land and 157.41 acres of wet land. Live stock rearing is also an aspect of farming as it contributes required food nutrition for the personal consumption and substantial products for sale.

The Gewog has fairly good road access but one of the villages is situated at over two hour walking distance from the nearest road head. Agricultural and livestock extension services are provided by exftension staff stationed in the Gewog. There is also a Range office stationed to give forestry service at the Gewog.

Health service and facilities are availed from the Basic Health Unit (BHU grade II) and also from Damphu General Hospital. The Gewog has a Lower Secondary School, an extended class room centre (ECR) and a Early childhood care and development centre to enhance the education coverage.The Gewog has electricity  and mobile connections in all the Chiwog.